Flexible Copper Connectors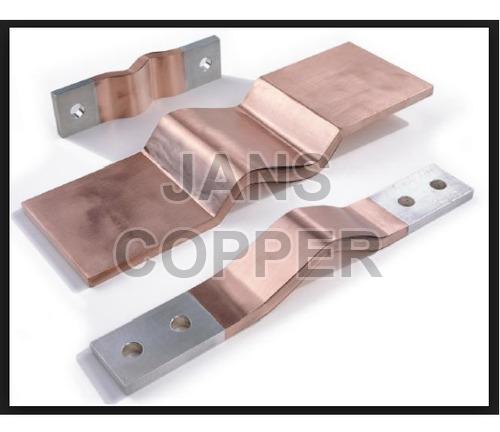 Price :
INR 660.00
/ Kilogram
Buy Now
Business Type
Manufacturer, Exporter, Supplier, Retailer, Wholesaler, Distributor, Importer
Type
Copper Links
Material
Copper
Diameter
12.7-25.0 Mm
Click to view more
Product Details
Feature
Cost Effective, Durable, Efficient, Fine Finished, Quality Approved, Variety Of Dimensions
Finishing
Coated, Polished
Width
1-100 Mm, 100-200 Mm, 200-300 Mm
Standard
ASTM B33, ASTM-D-149
Area of Applications
witchgear industries,Power plants,Cathodic Protection,Bus Ducts,Transformer,V.C.B
Pack Size
As per customer requirement
Conductor Type
C11000 copper
Application Areas: Switch Gear industries Power plants Cathodic Protection Bus Ducts Transformer V.C.B. Resistance welding engineering Electric Locomotives Galvano Engineering Furnace Copper, which has chemical symbol as Cu and atomic weight 29, is the most widely used metal in electrical and Manufacturing industry. Electronics component such as integrated circuits, electro-magnets and printed circuit boards are created using copper and products related to copper. Electrical Connectors use the mechanical assembly to connect or join electrical circuits to be used as an interface. Due to the nature of operation, an electrical connector needs to be manufactured using precise configuration and calculations. Copper wires are the most widely used metals for creating electrical conductors. Copper, has the maximum electrical conductivity and thermal conductivity which makes them as an ideal material for Manufacturing electrical connectors. Braided flexible connectors and jumpers are important components of electronics industry. These are manufactured using copper as well as stainless steel bellows, which are sometimes covered to provide additional strength and support. The main purpose of braided flexible connectors is to deliver maximum power output, even during peak performance. In those sectors, where the demand of power is much, and the wires experience considerable load, then braided flexible connectors can be an efficient solution for optimal power output. Some of the advantages of using braided flexible connectors are: ·         Control and absorb the vibrations ·         Manage the natural expansion and compression of wires during power transmission ·         Provide minimum resistance for seamless productivity Braids made of many copper wires are also sometimes used for flexible electrical connections between large components. The numerous smaller wires comprising the braid are much more resistant to breaking under repeated motion and vibration than is a cable of larger wires. In electrical and electronic cables, braid is a tubular sheath made of braided strands of metal placed around a central cable for shielding against electromagnetic interference. The braid is grounded while the central conductor or conductors carry the signal. - High conductivity copper - Wire to Bs - 4109 - C101 - Suitable for Earth Bonding/ also supplied as Standard Drilled & Pre-Cut Bonds. - Customer specific sizes & types of braid can be manufactured on order. Even though many of our products are standard items, we also make special tailor made products made exactly to the requirements of our customers.   Electrical engineers in power generation are aware of this simple fact: Vibration is an enemy of electrical connectivity.  
Looking for "
Flexible Copper Connectors

" ?
Kilogram